Team
Thomas Glen Cook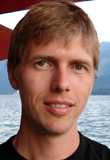 studierte an der University of Utah, USA und der Juilliard School, New York City, USA. Er nahm mehrere Jahre bei Felix Ivanov Unterricht und assistierte ihm später bei dessen Unterrichtsklassen für Bewegung an Juillard School, Brooklyn College, SUNY Purchase, Fordham University und The Actor´s Center.

Für diverse Theaterfestivals und Schauspielhochschulen (u.a. Juillard School, Adirondacks Theatre Festival, Ensemble Studio Theatre, New York Fringe Festival) hat Thomas Bühnenkampfszenen choreographiert.
Er arbeitet in Wien als STAT-zertifizierter Alexander Technik-, Yoga- und Tai Chi-Lehrer. Für "Elfriede Ott Studio" und "1st Filmakademie" hat Thomas Bewegungstechnik für Schauspieler (u.a.Bühnenkampfkunst,
Alexander Technik
) unterrichtet.
Lehrerfahrung
seit Okt 2009 Alexander Technik Lehrer; KIDSANA Holistic Health Center, Wien
seit Sept 2009 assistierender Alexander Technik Lehrer; Alexander Technik Zentrum, Wien
seit Jan 2007 Yoga Lehrer; John Harris Fitness, Wien
Nov 2007 - Mai 2010 Bewegungstechnik; Elfriede Ott Studio, Wien
Januar 2010 Bewegungstechnik Supervisor; Vienna English Theatre, Wien
Okt - Nov 2009 Bewegungstechnik; 1st Film Academy, Wien
Jan 2005 - Juni 2005 Tai Chi Lehrer; The Peninsula Spa New York, NY
Aug 2003 - Juni 2005 Tai Chi Lehrer; Mangoh Fitness Studio New York, NY
Ausbildung
2005-2007 Alexander Technique Centre Certificate Vienna, Austria
2004-2005 I.R.D.E.A.T. Certificate New York, NY
1997-2001 The Juilliard School Diploma New York, NY
1993-1997 The University of Utah B.F.A. Salt Lake City, UT
1989 Okt-Dez The University of Vienna Certificate Vienna, Austria
---
Links:
---